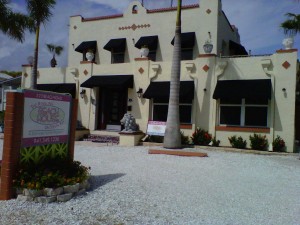 Ringling Beach House is a Spanish-style hacienda circa 1920 owned by a member of the Ringling Family. While the exterior is original, the interior has been newly updated in 2017.
Our units range in size from adorable efficiencies to fresh and fun 2 bedroom units to spacious 3 bedroom units.
Each suite is different, but all are freshly decorated in tropical shades of pink, blue and green. The two-bedroom units have king beds in the master plus two twin beds in the second bedroom. The three bedroom unit has a king bed in the master and second bedroom, plus two twin beds in the third bedroom. Aerobeds are available upon request. All suites are non-smoking. Click on the photo icon below to view each suite.
All accommodations include fully equipped kitchens as well as air conditioning, cable TV, LED flat screen televisions, DVD players, and a beach umbrella. Each has access to a swimming pool, beach chairs, and gas barbeque grills. All the comforts of home in paradise!
No laundry service available on site!
Pet friendly units may be available with management approval prior to arrival. Fees apply.